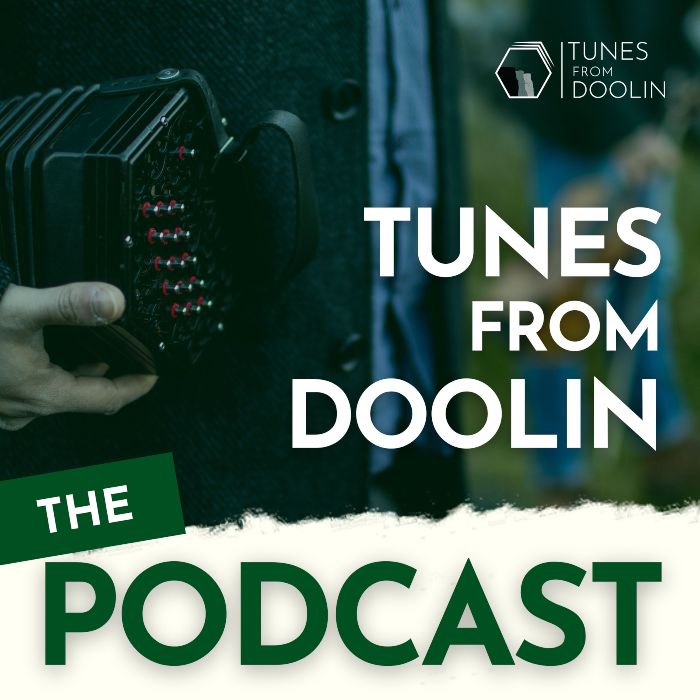 Welcome to the Tunes From Doolin Podcast
The Tunes From Doolin Podcast is an Irish Traditional Music interview series featuring musicians from County Clare and beyond, who visit your host, Charles Monod, in Doolin. We are guided on each episode by tunes picked and played by our guest and we talk about various topics such as sources of inspiration, repertoire, style, memories and much, much more.
The Tunes From Doolin Podcast made possible thanks to the support of Clare County Council through the Community Support Scheme 2021 and 2022.
Support Tunes From Doolin
The Podcast is part of a wider project called Tunes From Doolin, which includes :
An archive featuring 400+ traditional Irish tunes collected in and around Doolin.
A YouTube Channel with videos of tunes from the archives played simply and at a relaxed pace, in order to provide support for people learning those tunes.
The "Aughavinna" album and its tunebook, recorded together with fiddle player JB Samzun.
The Tunes From Doolin Podcast
Running this project require an important amount of time and has substantial costs (web hosting, podcast hosting, equipment, etc). It is only possible to keep it going with your support, for which I am so grateful.
If you would like to support, you can :
Become an Angel on Patreon. For as little as the value of a coffee per month (or a pint!), you can support the Tunes From Doolin project and help me produce more podcast episodes, videos and content. You also get access to bonus content!
For more information visit https://patreon.com/tunesfromdoolin
Purchase the album and/or tunebook "Aughavinna", which is a fiddle & concertina duet album released in 2020 with fiddle player JB Samzun.
Visit the shop https://tunesfromdoolin.com/shop/
Make a donation on Paypal : https://www.paypal.com/paypalme/tunesfromdoolin
If you don't want or can't contribute, that's ok too, and I hope you enjoy all this content. You can still help by interacting on YouTube and Facebook, like the videos/posts, leave a comment and share with your friends!